You are in control. You are in charge. You make the decisions. You are the chef.  I'm not going to tell you what to put on this salad, but I might make some recommendations. This is all about using your favorite vegetables or stuff you see that inspires you.
However, I will share how to make the goat cheese mousse.
You will need:
4 oz goat cheese
4 oz cream
baby squash? baby eggplant? cherry tomatoes? endive? cucumber? eatable flowers? Okra? cherry peppers? fennel? parsley root? swiss chard?
whatever you see at the farmers market that looks rad.
sherry vinegar
olive oil
salt and pepper
To make the vinaigrette first reduce like half a 750ml bottle of sherry vinegar down to a quarter cup. It will get sweeter, and have a bolder flavor. After it cools down, whisk in an equal part of olive oil. It may not stay emulsified but that's fine for this dish. Season it with salt and cracked black pepper to taste.
To make the mousse whisk equal parts cream and goat cheese until you have stiff peaks. Season with a bit of salt. Normally goat cheese is already salty so you don't need so much. I like to make it into a mousse because it takes away some of the barnyard flavor from the cheese. Meanwhile, the new texture has a more luxurious mouth feel. That's my opinion at least. Like I said, you're the boss.
The thing is, I don't want to tell you what to do. I want you to feel empowered, adventurous, and at peace with the world. Cooking should be fun, and no one likes being bossed around. (However, if you are working in a restaurant you better LOVE being bossed around!)
Anyways, here's what I do. Smear some of the mousse on the bottom of the plate. Spoon or drizzle the vinaigrette abound the outside. Arrange the vegetables on top of the cheese. I did one where I roasted some little patty pan squash pieces, shaved cucumber on a mandolin, cherry tomatoes cut in half, slices of pickled shallot, blanched asparagus tips, leaves of endive, and fennel. The key is a bunch of vegetables prepared a variety of ways (roasted, pickled, shaved, sautéed, blanched, raw, grilled) There should just be a couple of each on the plate so your guest moves from one thing to the next. But, they can't go back… So like seven different things is a good number.
I put the bulkier items on the bottom, like the roasted squash or eggplant. That is the foundation. Then I build upward, gradually lighter. Shaved stuff, than pickles, then endive and/or fennel. And, the garnish goes last (flowers, fresh herbs, sprouts, etc…)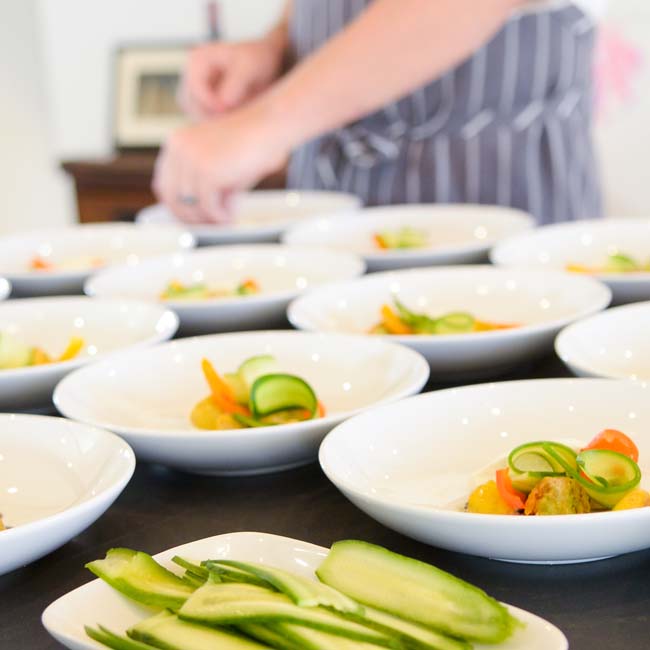 So, this might also sound weird to the pros, but I don't put anything on the vegetables besides olive oil and salt. I keep them in their near-natural state so you have to use awesome ingredients. Have fun with it. Break the rules. Enjoy.