Right now is a good time for gazpacho because it's late in the season and the tomatoes are ready in everyone's gardens. Harvests are happening! A friend of mine had a whole mess of tomatillos and when she came over for dinner, she gave me a bushel of them.
I needed to do something a little different with them because she knew all the other tricks like making salsa and braising chicken with them.
Back at One Market, we used to make a gazpacho garnished with fresh Dungeness crab meat, avocadoes, chilis and micro cilantro. It was pretty ding-dong good. But I didn't have any Dungeness crabs at my house so I kept mine pretty simple.
All I used was:
10 tomatillos
3 peeled cucumbers (I kept the seeds)
2 avocadoes,
juice of 3 limes
20 big mint leaves
half a diced yellow onion.
I marinated that onion in cider vinegar for 20 minutes. The vinegar takes the sharp gassy flavor away and leaves the sweet flavor (which is what you want.)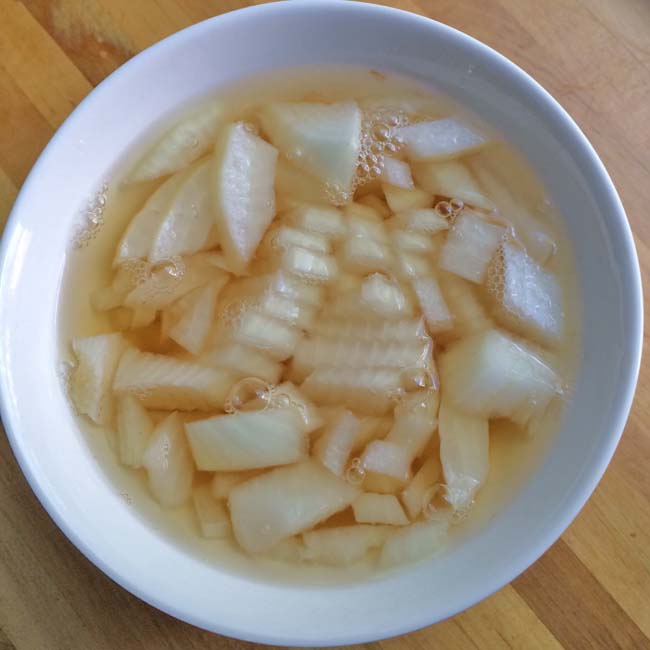 Also it needs about 16 oz of water and big squirt of nice olive oil.
What you do is let everything marinate together for a while before pureeing. Cut up the tomatillos, cucumbers and onion nice and small. Take the skin off and pit out of avocado, juice the limes, toss in the
mint leaves, olive oil and add a dash of salt. Leave in the fridge for a couple hours.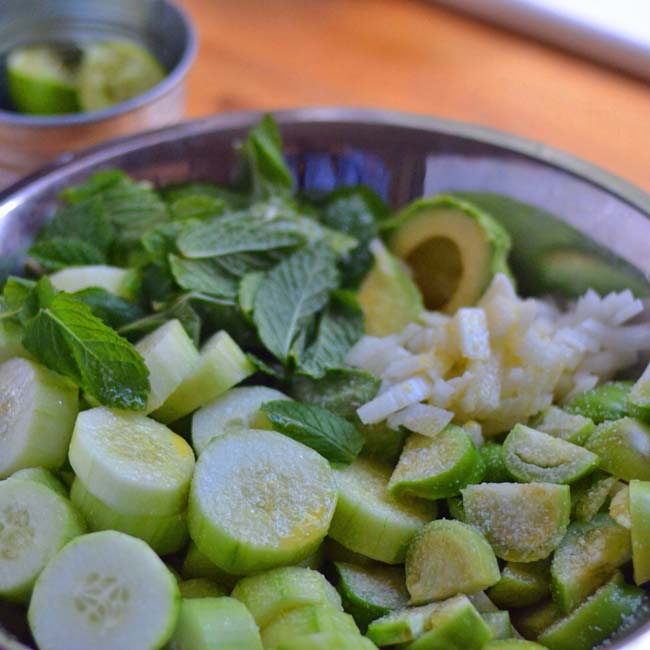 Puree until silky smooth. The avocadoes are what make it nice and smooth. So does the olive oil. Fat makes everything smooth, which is why it's so good. Fats also coat your mouth and give foods a luxurious feel.
Season it with a little salt and I like a tiny dash of cayenne pepper. Your tongue should be stimulated on all fronts–salt, acidity from limes, heat from cayenne, sweetness from the onion, richness from the avocado and olive oil. Everyone should be at the party having fun.
I like to garnish it with some of the things in the soup: a dash of cayenne on top and few mint leaves. I also added crème fraiche (you could use sour cream thinned down). You can make this vegan by leaving the crème fraiche out. I also garnished this with pistachio oil instead of olive oil, which is a complementary flavor, but either is tasty.
It's a party pleaser and a good way to impress your friends. Plus, it's so fun to say "gazpacho". Let me know how yours turns out.